Servises
The staff of Edem Hotel first of all cares about the comfort of the guests, so we offer a variety of services to our guests, including free and paid ones.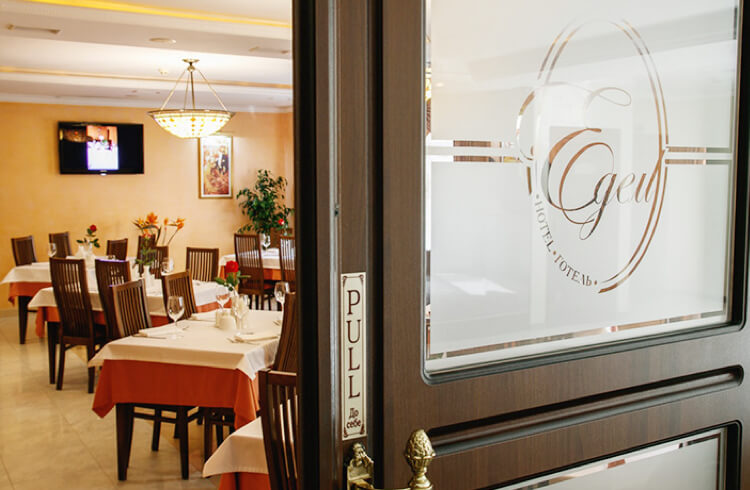 Free services:
Free Internet access (wi-fi) on site,

Calls within the city, receiving faxes and delivery of correspondence to the room (upon request of the guest).

Buffet breakfast.

Guests can store luggage without having to worry about safety – we provide the opportunity to use the luggage room, as well as provided concierge services.

For guests arriving by their own car, parking is available at the hotel's guarded area.

For all other guests, staff will, if necessary, help call a taxi in order to getto their destination.

Taking care of the health of our guests, the staff will always respond to your request and provide a medical first aid kit or call for emergency medical assistance at any time of the day.

Room rates include a change of bed sheets and towels.

At your personal request, you will be awakened at a certain time.

For business guests (a group of more than 10 rooms), we offer a conference room for negotiations at a pre-determined time.

Mini-safe in the room
Additional paid services:
Additional paid services include cleaning, washing and ironing of guests' clothes, provision of necessary hygiene products at the request of the guest: a toothbrush, a comb, one-use shaving razor, etc.
For our guests, we offer a set of products in the mini-bar, and a holiday package for newlyweds, so that staying at Edem hotel leave the most pleasant impressions.
Taking into account the different time of arrival of trains and other vehicles, you can additionally order an early check-in or late check-out from the hotel, according to availability.
If you have any questions regarding the services, please contact the reception number.
We wish you a pleasant time at Edem hotel!