Temple of Saints Olga and Elizabeth
Updated: 07.12.2018
2057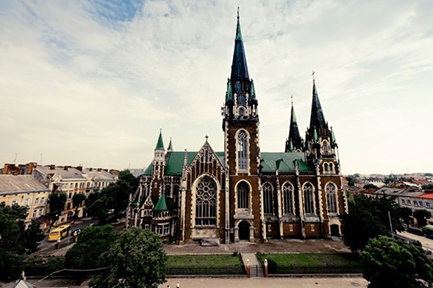 Unmatched  internal atmosphere of the temple of the Saints Olga and Elizabeth and it veritable fancy architectural solution, make it recognized in Lviv. It is also unique for the location – being very near the railway station it is became a first monument that tourists see. Besides, from temple it is visible incredible beauty for the city.   
Temple of Saint Elizabeth – history 
1989 in Geneva was happened horrible event – empress Elizabeth Habsburg was killed during the rest by Italian anarchist Luigi Lukeni. Empress died by kick of sharpened pale, lost too much blood. Thought emperor Franz Josef didn't love his wife (by the many facts it was known that he had lots of lovers)  but maybe wished to keep the memory of her and in 1903 began construction of the building.
At first there were 19 projects of the temple. But the best was the version of T.M. Talowskyi. Building was finished in 1911 and at that time Temple of Saint Elizabeth sanctified  priest of the Roman Catholic Church.
The Roman Catholic Church of Saint Elizabeth was build in a very tricky way – it stands as people who are in train station don't see other important for Lviv temple – cathedral of Saint George. As it was related to greek catholic church. Anyway, when it was built up, Lviv adds to it numbers of miracles one more in very deed marvelous creation of the art.
History of the temple could not exist without mention of II World war. Facade of the temple of Saint Elizabeth had experienced huge damage from weapon, furthermore belles were confiscated for melting for the needs of the army. Of course after the war, the temple of Saint Elizabeth were repaired, and even   set up the organ. It happened it 1946.
Destruction of First World War were tiny in a comparison with harm of damage during the  II World War.  Facade and  roof were destructed, organ disassemble and in 1946 temple was closed.
Then Church of Olga and Elizabeth became warehouse of "Svitoch". To it origin function it had backed in 1991. It was sanctified again and given name the Temple of Saints Olga and Elizabeth.
Architecture
High of temple is 88 meters. Whereas  it is highest building oin the town. Lviv can be proud of this monument. Style of temple – neo-gothic. Spiers, large window arches, and many other decorative elements create its unique beauty.
Interesting fact is that in 1950 party took a decision to take crosses out of the church. For a long nobody didn't accept to do it, but at last some daring was found. This person felt down from sprier. From that time nobody touch temple of Elizabeth  .
The inside arrangement of the temple – the best merit of lviv's masters of that time – Sihulskogo, Sikhul, Zepikhivsky and Shostakevich, as well as Voitovich.                                                                                                  
Thought, of the most famous for visit in Lviv city is a Church of Saints Olga and Elizabeth, Lviv can shows many other interesting. But we are recommending to begin explore it here. Hence, better to search hotels of Lviv near the temple of Saints Olga and Elisabeth.                                                                                  
One of the best choice is hotel Edem, situated in very close distance to the temple. It 5 minutes by foot to come to this greatness monument. And in the hotel you will be joyed by the comfortable design, real hospitality and high service.