Theater of opera and ballet named after Solomiya Krushelnytska
Updated: 08.08.2019
1917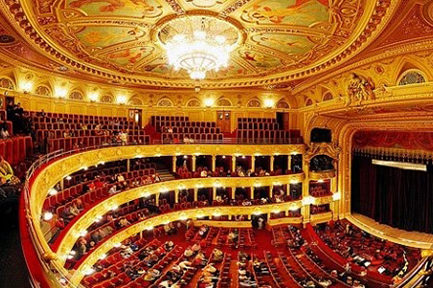 Lviv's Opera theater – one of the most famous architectural monument of Lviv among tourists. It is connected with advantageous  location, and also that it greatness and incredible style of neorenesance indeed amaze.
Theater of opera and ballet in Lviv is justly considered to be one of the most exquisite theater  in whole Europe.
Address: Svobody avenue, 28.
Interesting facts about theater
The project of theater was engaged by architect Z.Gorgolewskyi and he finished the building at the beginning of the XX century. Though Lviv's opera is often compared to operas from Vienna and Prague, it has its own unique charm and improbable power of art – in this building could be founded wide styles palette of Europenian countries veritable taste.
Opera in Lviv indeed stand out with its forms of facade: columns and balustrades are very visible, decorated by moderate sculpture of allegorical sense. There are eight muses find their place at the main entrance and above them – composition of ten figures, that named "Joy and suffering. Special attention worth triad of bronze figures with wings is the genius of comedy and drama, the genius of tragedy and the genius of fame. All of them are created by the talented hand of Lviv artists – Popel, Baronch and Viytovich.
Inside of it the Lviv's Opera theater is not less impressive. All it's interior.All of its interior is decorated with gilding (this is genuine gilding, on which was spent several kilograms of gold), marble of various colors, lots of sculptures and decorative paintings. The audience hall is four-tier and is made in the form of lyre. The theater can accommodate up to 1000 people at a time!  
It is not very known but the decorative curtain is already 118 years old and is called Parnassus. It has place for sense of human life in figures of Parnassus with an allegorical interpretation.
Special peculiarity of the theater is its amazing acoustics. It is allowed not only to join performance of famous opera's artists or ballet collectives from Europe and Ukraine, but also to conduct real Viennese dance!
No matter how cultural rich and many-sided would not be Lviv, Opera theater will be always it's main decoration. It surrounded by abundance interesting buildings, famous establishments, monuments and sculptures, hotels near Lviv's opera theater are gladly welcoming guests, and tourists continue amaze with beauty of it incredible building.
Nowadays Opera theater – is the best scene not only for  for theatrical or ballet acts. There are a lot of well-known performers coming to Lviv from different parts of the world.
Always actual poster of theater you will find by the link: https://opera.lviv.ua/afisha/
If you come to Lviv, hotel near Opera theater  will be comfortable version for accommodation.
Searching for the best hotel near the Theater of opera and ballet in Lviv? Then we invite you to stay in a hotel Edem. It is 15 minutes from us to Opera theater by foot, and real lviv's hospitality and perfect service will make come here one more time!