Christmas in 2020 in Lviv: what you can see and where to stay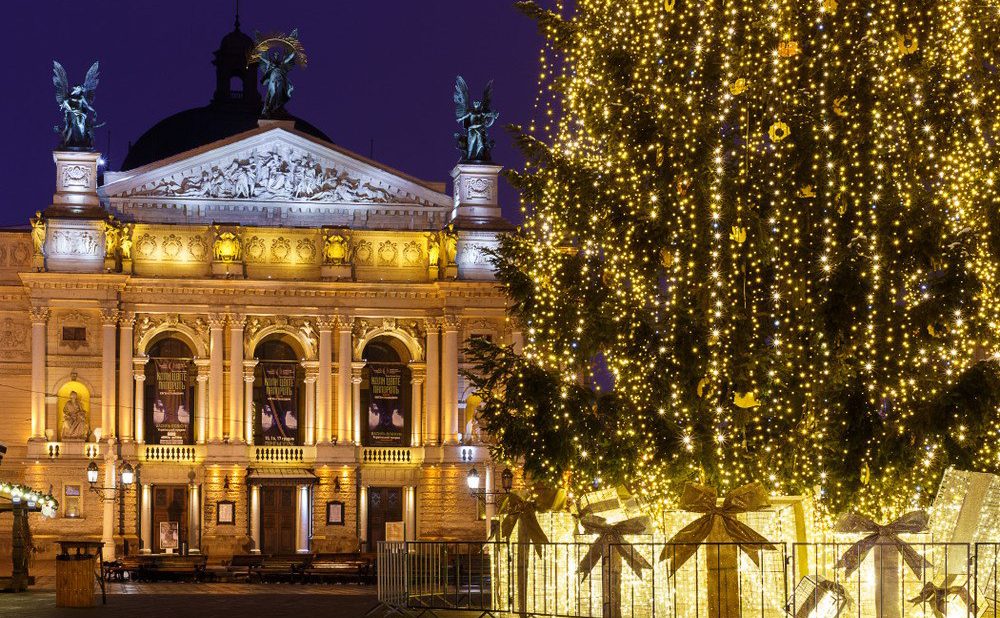 Christmas in Ukraine
Christmas is a special holiday not only for Ukrainians but also for the whole world. It is not only a significant religious event, but also a real atmosphere of love and warmth during the cold winter! And yet – unique traditions, customs and symbols.
Christmas is the birthday of the Son of God – Jesus Christ, whom God has sent to the earth of sin, to atone for the sins of mankind and save it.
That is why, on this great day, people around the world praise their savior – the houses are decorated with fir-trees (the symbol of the gospel tree), a lot of candles lit up, and people go to church services.
Before Christmas, Ukrainians keep fasting for 40 days, beginning on November 28, and ending on January 7. The purpose of fasting is spiritual and physical purification and remission, prayer and retention of passions and evil. According to the ancient Ukrainian tradition, Lviv residents celebrate the Orthodox Christmas on January 7.
Catholic Christmas in Lviv (December 25) – the event is also significant and most of Lviv's people go to church this day. December 25 Ukrainian citizens are state day off, so all Catholics have the opportunity to celebrate this Christmas. But, since most of Lviv's are Orthodox and Greek Catholics, the most important holiday for them is Christmas on January 7th. That's when the biggest celebration in the city takes place and the planned major events. Therefore, we recommend that you go to Lviv for these dates.
The most important Christmas tradition is the Holy Evening, when the whole family is going to the big table, for which it is mandatory to cook 12 celebratory dishes – in honor of 12 holy apostles.
Christmas in Lviv
Christmas Lviv is a special place. Old traditions of Ukrainians are still preserved here, but at the same time they are constantly inventing something new, unusual and modern. The city of Lion was named as the most attractive place to celebrate New Year's and Christmas holidays in Ukraine!
With the onset of winter (on December 1) in the Market Square open a big skating rink! It is also a recently restored original tradition – even before the First World War on this place poured a skating rink for the fun of the locals. Restored this tradition in 2007.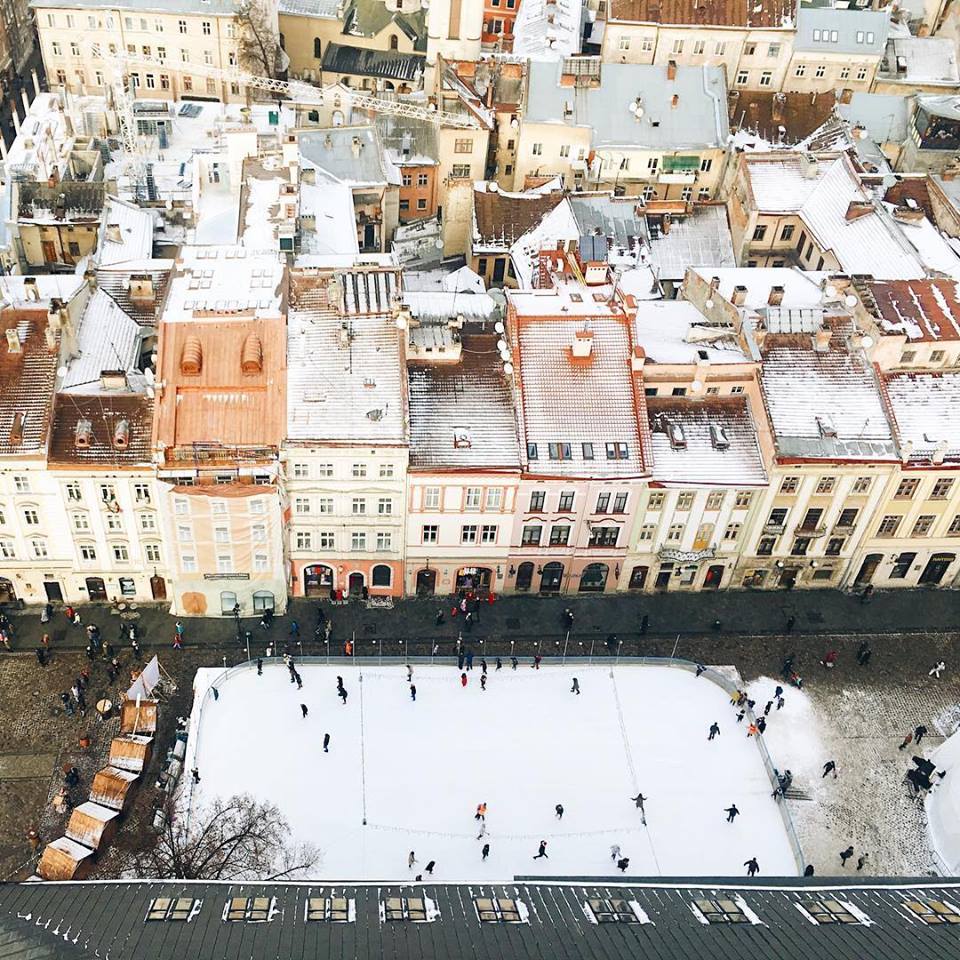 The skating rink runs from 10:00 to 22:00. 
If you take skates for hire, then for adults the price  will be from 110 to 150 UAH, for children – 90 to 110 UAH.                                                                                                                 
The city tree is lit on St. Nicholas Day – that is, on December 18th. It stands in the middle between the fair and the opera house. By the way, as for St. Nicholas – since December 13, every kid will be able to visit the St. Nicholas' Residence at the Christmas Fair and receive small presentations.
Citizen of the city of Lion very seriously and with great respect despose for the Christmas and the Holy Evenings. Mandatory 12 dishes can be found in almost every home! Children after dinner are dressed in incredible costumes and go with a carol in the city. Therefore on January, 7th in the center of Lvov it is possible to meet the real swaddlers, whose carol is cute hearing. Lviv for Christmas is just magical!
Christmas Fair in Lviv
When the Christmas Fair appears on the main avenue of the city, Lviv begins to feel the true atmosphere of the Christmas and New Year holidays. The fair opens in early December (earlier than in any other corner of the country) and immediately sets the tone of the holiday – the flavors of street candy are spread around the center, bright lights attract both tourists and locals, and such gifts for loved ones as you can get here you will get nowhere else.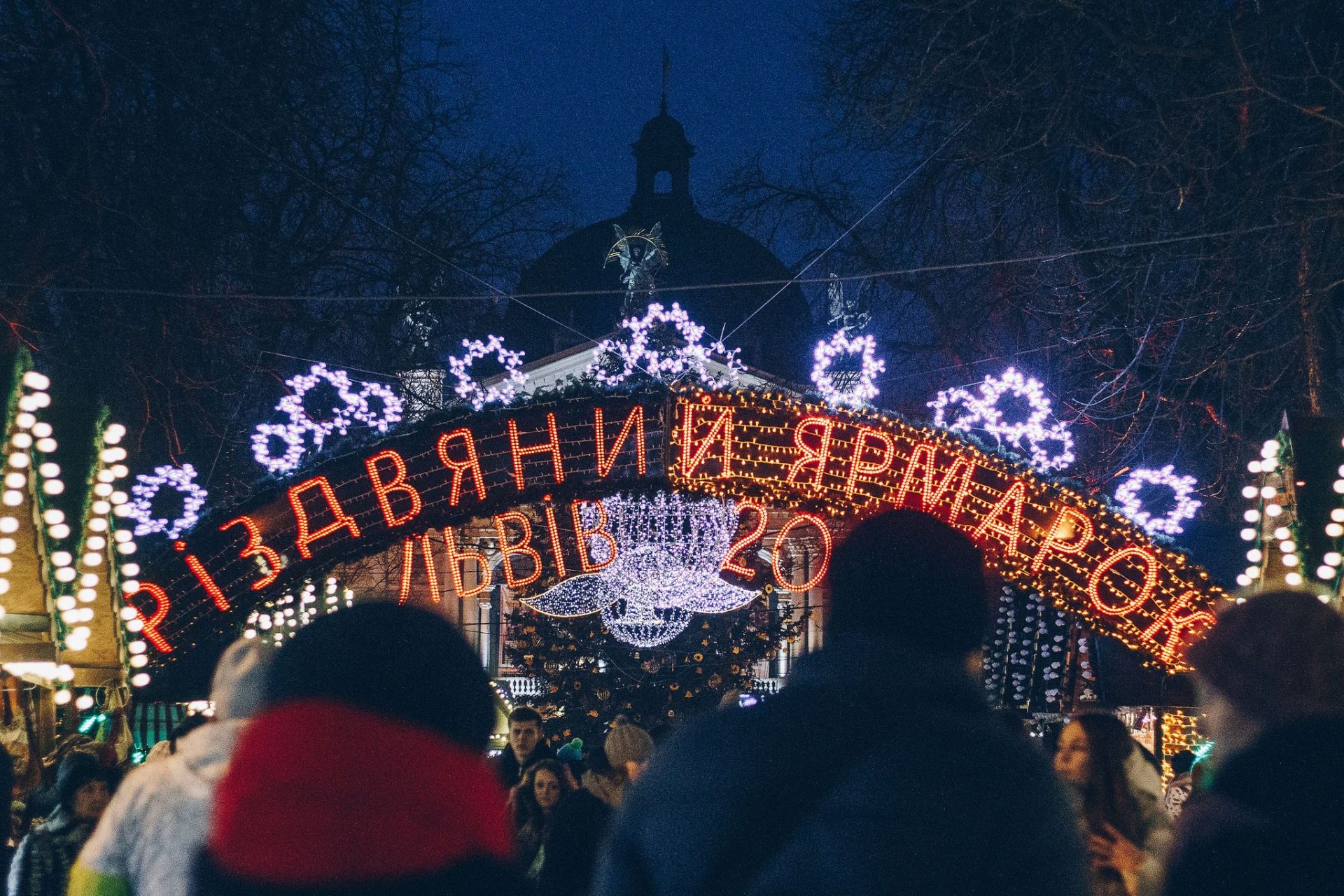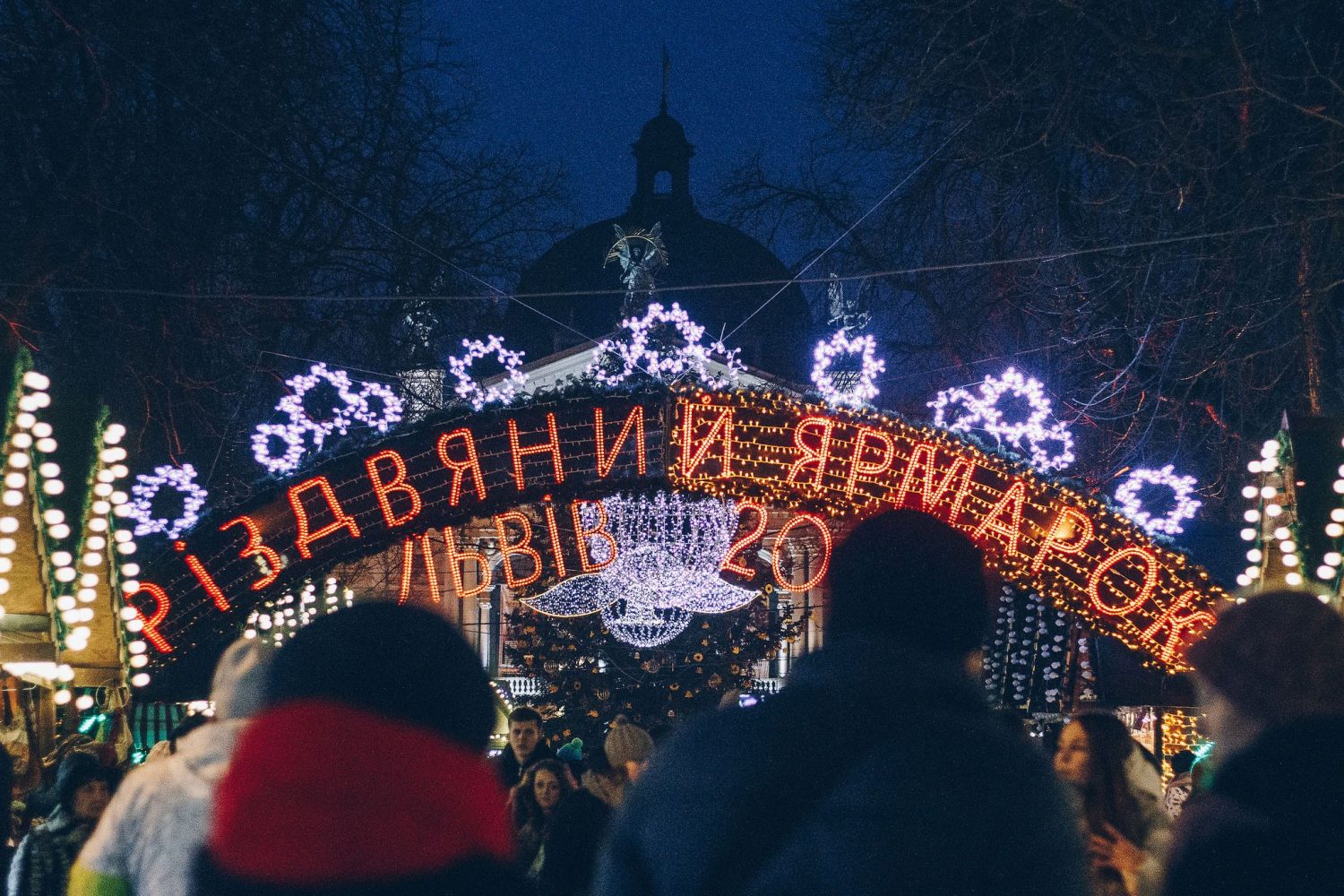 You can drink hot and you can get warm at a price of 30 hryvnia – here they sell coffee, tea, mulled wine and even hot beer.                                                               
As for dishes – prices for full-fledged hot dishes start from 100 hryvnias, but you can buy something sweet from 20 hryvnia.
Indeed, it is here that the most interesting products from Ukrainian producers will be sold.                                                                                             But the Christmas Fair in Lviv in 2019 is not only a place of sale. This is a real meeting place for those who want to celebrate a big family! There will be a variety of ethnic parties, festivals and master classes, lots of fun and treat!
The fair is open from 11:00 to 22:00 every day starting from December 13 and until January 19! Holidays and weekend are open from 10:00 to 23:00. This year the organizers have prepared a lot of interesting things.
Christmas program in Lviv in 2020
Here is a detailed program of all New Year's and Christmas celebrations in Lviv 2019-2020:
Winter Market
When: 07.12.19 – 14.01.20
Where: Courtyard of the Palace of Arts
Christmas market
When: 13.12-19 — 19.01.20
Where: Svobody Avenue (from the Lviv National Academic Opera and Ballet Theater named after Solomiya Krushelnytska to Taras Shevchenko monument) and Sq. Market (west and east sides)
Opening of the main Christmas Tree
When: 18.12.19 6:00 PM
Where: Svobody Avenue (main stage)
Opening and celebrating of the nativity scene of Christmas on the Gregorian calendar
When: 24.12.19 6:00 PM
Where:  Svobody Avenue (main stage)
Holiday New Year Concert
When: 31.12.19 10:30 PM
Where:  Svobody Avenue (main stage)
Opening Christmas Diduch
When: 06.01.20 12.00
Where: Market Square
Holly Supper
When: 06.01.20
Where:  Svobody Avenue (near the main Christmas tree)
Christmas in the grove
When: 07.01 – 08.01
Where: Museum of Folk Architecture and Living named after K. Sheptytsky
Christmas concert
When: 07.01.20 6:00 PM
Where:  Svobody Avenue (main stage)
Holiday of Pampukh
When: 18.01-19.01
Where: Museum of Folk Architecture and Life K. Sheptytsky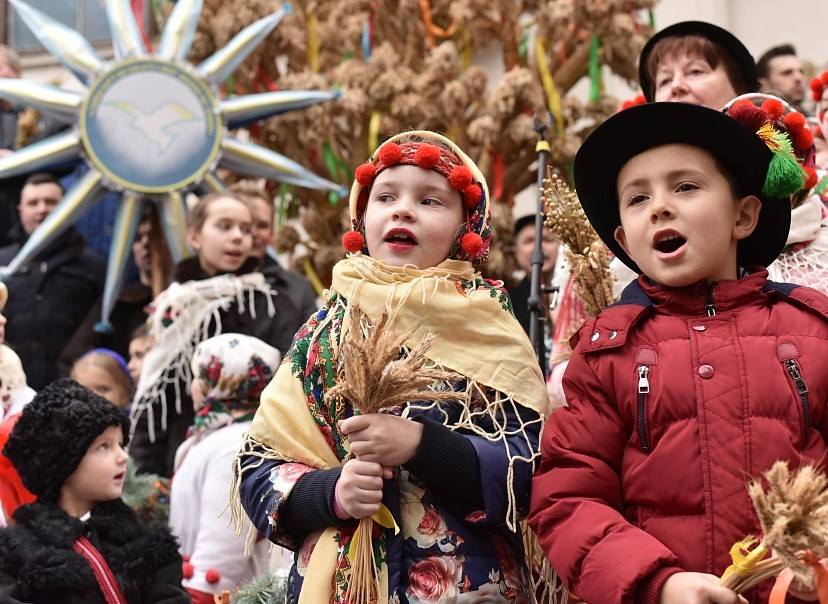 Not in every region of Ukraine, they treat Christmas as in Lviv, so traditions are not kept everywhere. That is why the organizers of the fair invite everyone to the main tree on January 6th – there will be a Gala Dinner in Lviv, where you can not only visit the traditional 12 dishes, but also sing the Christmas carols. Real Ukrainian Christmas in Lviv in 2020!
Entrance to each of the events is free.
Rent a home in Lviv for Christmas
If you want fairy tales – we invite you to Lviv for Christmas 2020!
As in any other period of time, tourists in Lviv have several options for renting a house for Christmas – this may be either an apartment, or a house, or a hotel. Of course, it may be a hostel – but Christmas still requires more privacy. What are the pros and cons?
The apartment is always more home-made, here you can create your own cosiness and prepare a holiday meal. If you do not want to shop for food and spend the whole day at the stove, we suggest you use the hotel's services. For example, Hotel "Edem" for the Holy Evening offers guests a holiday menu – here you can order both kutia, and donuts, and enjoy other traditional dishes.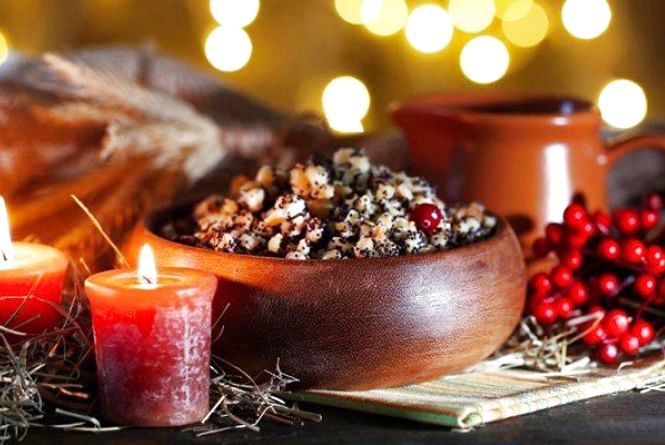 In addition, the hotel "Edem" is quite close to the main Christmas events of Lviv, so you will not have to wander for a long time and get into the traffic jam.
If the choice of your winter holiday has fallen to Lviv, Christmas will be simply incredible! Just like all other New Year holidays. it is necessary to go in winter to Lviv – such an atmosphere can not be found anywhere else. We are waiting for you!